It's that time of year again where approximately 55,000 lucky foreigners from around the world find out whether they indeed are a winner of the the DV-2014 Lottery, otherwise know as the Diversity Visa or Green Card Lottery.
So if you go to the State Department site you and you enter your confirmation number from last year's lottery entry that you would have seen online you can see if you are a winner! For the first time the site has got more friendly and in case you have forgotten your confirmation number you can still find if you have won by entering a lot of personal authentication details about yourself that you would have inputted in last year's online form including Full Name, Date of Birth, Email, etc.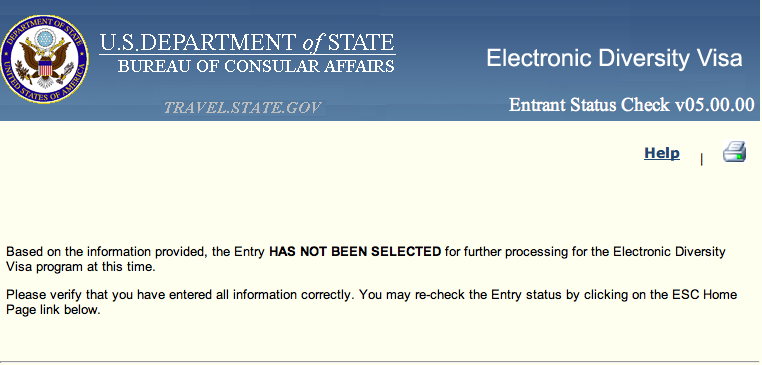 This year's announcement could very well be monumental  and historic as it may well be the last Green Card Lottery ever. Current US Immigration Reform legislation being debated in the US Congress proposed to eliminate the Green Card lottery and 5 years following replace it with a Merit based visa system with a larger cap but more fair to actual ability of the applicant and thus value to the US economy and society. Now Immigration Reform may fail to pass and the current initial legislation is sure to be modified, however there is little strong support on either side of politics for the Green Card Lottery so chances are no matter what the reform bill is in the end, the Green Card Lottery elimination will be a part of it. Therefore the only way the Green Card Lottery remains in place is if this legislation is delayed past October 2013 when DV-2015 is scheduled to run or if no Immigration reform is past at all.
Remember if you are a Green Card Lottery winner the official notification will still come in the mail to the address you put in the online application form and that will give you the official instructions as to what you must do in terms of US Consulate interviews, organizing documents, etc.
Cj