This is definitely the most comprehensive source for E-3 visa information anywhere on the web and today we are going to answer some of the most common E-3 visa questions by showing you some never before see statistics that could help you in your journey.
The E-3 visa (along with the E-3D spousal visa) is the most common and easiest way, relatively speaking in the complex US Immigration system for Australian professionals to work in the United States. The primary E-3 visa is currently for Australian citizens only but the proposed US Immigration legislation currently stalled in the US Congress does allow provision for Irish and South Korean citizens to be eligible for a similar work visa.
There is 10,500 of these visas allocated each US Immigration year beginning on October 1st and as yet there has been no year where the E-3 supply has been exhausted in full. This is unlike the H-1B visa open to all global professionals which is often so over subscribed it has to go to a lottery soon after the application season on April 1.
As part of the E-3 Visa process, the first step includes a form that has to be filed with the US Department of Labor called ETA-9035(e) and from that you get an approved Labor Condition Application (LCA). In general this is the only form that has to be filed prior to someone going to their US Consulate interview to get their visa itself. Of course an approved LCA doesn't guarantee an approved work visa at the consulate or even entry into the US itself after getting a visa. However it is a mandatory step and in most cases means you are well on your way.
The LCA itself once verified confirms a few things including the company you are being employed and sponsored by, the wage being paid to you being equal to or greater than the prevailing wage, the location where you will be working and the role and location of employment itself. There are a couple of other minor things like how many other foreigners are on the workforce, company size and possibly some tax information but essentially this is the nature of what needs to be proved.
The most common reason for denial include not filling in the form completely and correctly, the company having no verifiable history, the job itself not meeting the specialty occupation standard, the level of wage not being at least the prevailing wage which is a level of pay equal to the average salary paid to a US citizen for the same role type in that area or the company being in bad standing with US authorities.
Above is the result over the past 12 months of submissions for an LCA. Firstly you can see the total is far below the 10,500 annual quota. However the most important numbers to note are the 80% that are approved and the 12% that are denied. The reason why an application might be withdrawn either before or after approval could be numerous but usually because the position is no longer being offered or changed their mind on the candidate or the candidate themselves decided not to pursue. There is no official data as to why things are denied but the main reasons we gave earlier.
Another common question we get is how long does it take to process (either approve or deny) these applications given job start times, US Consulate interviews and flight arrangements hinge on this document being ready. You can't schedule, let alone attend, a US consulate interview without this approval as you get a confirmation number which you need to fill out your DS-160 form that is required to schedule your US Consulate interview online.
Figure 2: Approved LCA Processing Times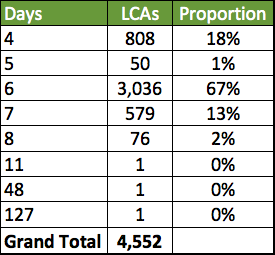 Above you can see in 98% of cases where the LCA has been approved it has been done within 1 week which is the general guideline for how long the submission takes to process at most times. There are periods say in the latter part of March where guidelines say it may take longer due to the heavier volume because of H-1B visa but because the E-3 visa has no specific time period, applications are processed year round.

Figure 3: Denied LCA Processing Times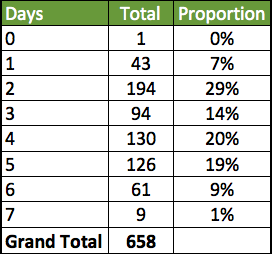 In the cases of denial you can see 90% is known within 5 business days and even 50% is already known with 3 days of submission. That tends to suggest a lot of the denials come from missing information in the application or automatic denial criteria like prevailing wage level. If you receive a denial you can resubmit with corrected or new information if appropriate.
Some other interesting points of note from the E-3 Visa LCA applications include;
92% specify the visa length for the maximum period of 2 years and further 2-3% go very close to that period. The next most common period is around 1 year.
61% of applications specify the employment start date within 1 month of the original LCA submission date. Now what is interesting about this is that it takes on average 4-7 days to get an approved LCA and only then can you do your US Consulate interview which can take time to get an appointment date and then once approved takes about 2-3 days to receive in the mail. So in general all this means most people and their US employers want to start working as soon as possible but often they will be starting after the date specified, which is perfectly OK.